Fit Classes with Ashleigh was technically established in 2010 when I taught my first fitness classes, but it didn't become an official brand until 2020. The fire in my logo is a symbol of the energy I bring to every fitness class and it also serves as a metaphor for the fiery confidence I want my class to develop.
I'm currently licensed to teach Zumba and Strong Nation and have over 10 years of experience teaching group fitness. I currently offer in-person and virtual classes. See more below!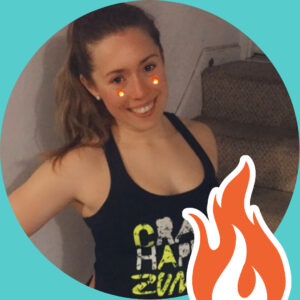 Best Zumba instructor. I've been with her classes from the start 10 years ago. She is high energy!! AWESOME!! Highly recommend her classes.
– Sarah S.
She is very energetic and motivates us to get the best work out we can individually.
– Veronica M.
Amazing!
Always smiling so positive and very supportive. Offers two modifications for every workout. Constantly checking in to see if you are succeeding through workout.
– Maya V.
On-Demand Classes
I offer a variety of On-Demand Zumba and Strong Nation Classes weekly that you can take on your schedule! Visit the daily class listing to see what is available. Weekly schedules are also posted to my social media channels and in my weekly email. Anyone can drop into a class with a credit card or PayPal account.
Do you have an active class package? Make sure you use it by 2/15/2022 because the Zumba brand has decided to discontinue this feature. Going forward, you can still drop into any class for the $5 rate.